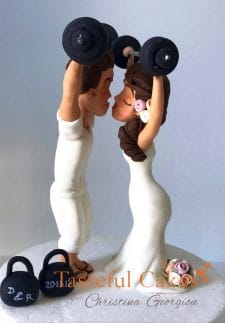 Cake Toppers are a wonderful addition to any cakes. I design and create original Cake Toppers for Celebration cakes and Wedding Cakes.
Bride and Groom Cake Toppers can be ordered separately from cakes and sent out in the post. They are completely bespoke and can be designed accordingly to your requirements, from the traditional right through to hobbies as well as creating a story between the characters. These can be as creative as your imagination, For inspiration take a look at some of my other cake toppers.
>
Cake Toppers can be made onto a plaque or with skewers in the bottom; this makes it easy to insert them straight into the top of your cake. Making them completely food safe as well as extremely stable on top of the cake.
Cake toppers are made using Florist and Modelling paste which is an edible product that dries extremely hard, so consumption is not recommend.
Bride and Groom Wedding Cake Toppers Start at £95
Click Here To Contact Me.
Click on the photo below for more detailed information.