Besides creating and designing wedding cakes, I put on regular cake decorating classes to meet the demands of both novice and advanced cake decorators. Classes include figure modelling, Sugar wired flowers, Ganache and fondant cake covering, basic fondant skills and cupcake decorating.
Cake decorating classes and workshops are within easy reach of London, Essex and Hertfordshire.
Here is a list of my current classes and workshops. If you wish to have one to one tuition with me, or perhaps have me teach at your establishments and schools, please do not hesitate to contact me using my online form.
For all My Demonstrations and Events that I'm attending, please click here. Alternatively, if you would like to view My Calendar of classes, workshops, demonstrations and events, please click here.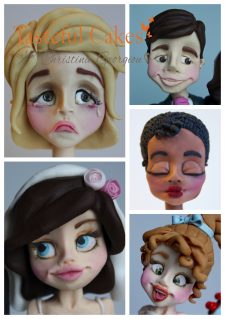 Brief Description:
Spend the day learning how to master facial features and expressions. This class is all about quality not quantity, taking the time to really concentrate and work slowly on the faces creating lots of detail. You should be able to complete 2/3 faces but you'll learn all the techniques necessary to create all 5.
This is a 1 Day Class.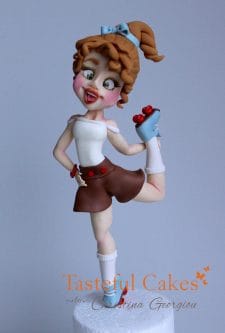 Brief Description:
Spend a day learning how to create a female standing model, concentrating on facial expressions, all body parts as well as proportions and support. Perfect for taking your modelling skills to the next level.
This is a 1 Day Class.
Brief Description:
Create a bespoke Bride and Groom topper, using simple and easy to learn techniques which you can easily recreate.
This is a 1 Day Class.
</a>[/one_half]
<strong>Previous Class Pictures</strong>
To see some of the pictures I have taken in my cake decorating classes, please click here to visit my workshop album on Facebook.