Welcome to my cake decorating classes! Here, you'll learn all about fondant skills, sugar-wired flowers, and sugar modelling. It's my passion to share my knowledge and teach others how to create beautiful Sugar Art. My happiest days are spent at my cake studio, where I get to spend time with like-minded, creative people, drinking tea, and laughing.
Are you feeling a little daunted about attending one of our cake-decorating classes? Please don't worry! You don't need prior experience as everything is broken down into easy-to-follow, step-by-step stages. I'll be with you every step of the way, and I provide 1:1 assistance at each stage, so no one gets left behind.
At the end of each class, you'll take home a completed piece of Sugar Art that you can be proud of. You can impress your family and friends with your fantastic new cake-decorating skills. All materials and equipment are provided, so you don't need to worry about bringing anything except yourself. Plus, you'll enjoy a delicious hot lunch to keep you fueled and ready to create.
Just bring yourself and your creativity to our Cake Studio Tasteful Cakes Acadamy, located in Waltham Abbey, Essex.
Take a look at the upcoming cake decorating classes below, and take advantage of purchasing through Klarna's payment plans. Join me for an unforgettable experience of learning how to create beautiful fondant/Saracino cake toppers, sugar modelling and sugar-wired flowers, perfect for decorating your beautiful celebration or wedding cakes.
If you have any queries or questions, don't hesitate to contact me.
Invest in Yourself – 1:1 Tuition
Private 1:1 masterclass is great for anyone wanting to build confidence, excel skills quickly or if you have something specific in mind. The day is completely tailor-made to suit exactly what you want to learn. We can decide together so that you get the best out of your day.
The teaching skills I specialise in are: Mastering basic fondant skills, sugar modelling or sugar wired flowers.
£450 for the day, Monday to Friday
£550 for a weekend day.
Duration: 6/7 hours
Materials, equipment and hot lunch included
Private 2:1 masterclass can also be arranged, with an additional fee of £100.
Please check that you are able to make the date arranged as classes are non-refundable. However, if for any reason I have to cancel I will refund your money straight away.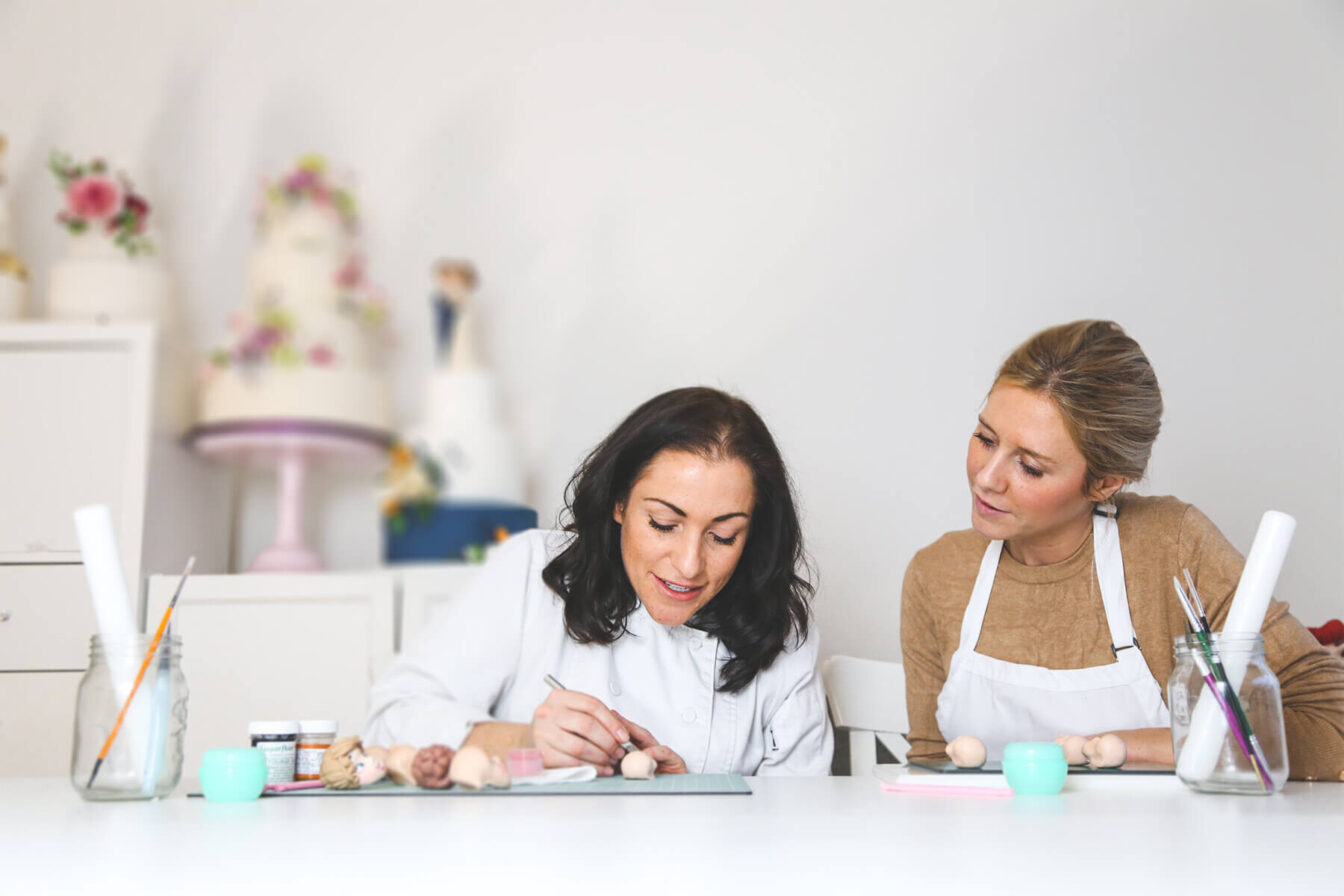 Private Classes at My Home Studio:
I am more than happy to host and teach private day classes at my home studio in Waltham Abbey. This is a set price including all materials, equipment and lunch. Maximum of 7 people. Contact me for prices.
Teaching Workshops and Private School Hire:
It's a great pleasure for me to travel and share my knowledge far and wide, I am available for hire within the UK or internationally.
I have a set daily rate for up to 10 students, accommodation and travel expenses will need to be charged on top. Please contact me here for a quote.
Sugarcraft Clubs and Demonstrations
Over the years I have demonstrated at lots of branches for the NSA and BSG. Deming a fun educational evening, teaching modern sugar art, is something I am extremely passionate about bringing to your clubs.
Unfortunately, I am unable to now offer these face to face unless I am booked for a workshop. However, I am more than happy to do a live demonstration over Zoom or Facebook.
If you'd like to book me, please get in touch.