Gold Award and trophy for best in Category – British Sugarcraft Guild, Brighton
Silver Award, Small exhibit Cake International, Birmingham
Demonstrating at Sugarcraft clubs all over the country
Exhibited and Demonstrated at the Cake and Bake Show London Excel in 2017, 2018, 2019
Mc'Vities 180 years Anniversary Cake.
Regularly featured in Squires Kitchen "Wedding Cake Show Room Annual Exhibition" as well as contribute to their monthly magazines.
Featured in Squires Kitchen Magazine "Wedding Design Source"
Squires Kitchen Magazine "Wedding Design Source"
Featured on the front cover as 'Wedding Cake of the Future'
Step by Step Tutorial and meet the designer Interview
Featured on the front cover with a step-by step tutorial in Cakes and Sugarcraft- Halloween issue Oct 2019
Step-by step tutorial featured in Cakes and Sugarcraft – July 2019 Issue: Father's Day Cake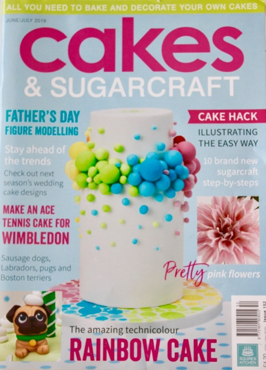 How did your love of sugarcraft start?
My love of sugarcraft started at a very early age, with my mum as my greatest influence and inspiration.  She was extremely artistic. We used to spend lots of time together creating different characters and animals out of dough and sugar.
What is the first thing you remember making?
A piglet cake.  I remember feeling so proud – I think I still have a picture of it somewhere. Thinking about it now, pink probably wasn't the best choice for my little brother's birthday!
How would you describe your decorating style?
Fresh, clean, personal modern feel. I love taking traditional designs and ideas and giving them a modern interpretation in both colour and form.
What motivates you?
My motivation comes from many things: seeing the delight in someone's face when they see their cake for the first time; looking at other people's work; attending shows, classes and seminars and meeting new people with the same interests.  It all makes you feel part of a big community. The sugarcraft world is booming and it feels great to be a part of it. Running Tasteful Cakes gives me the opportunity to do all the things I love most – baking, art, teaching, management and socialising.
What would you say is one of the biggest lessons you've learned in your career as a sugarcrafter?
One of the biggest things I have learned is that you can never stop learning. Why spend months teaching yourself something that someone else can teach you in a day?! They will give you confidence and a good starting point. From there its practise, practise, practise and eventually your skills will naturally evolve.
What's your favourite thing to make?
I really enjoy making models. In fact, I think I recently have become a little obsessed!  It's just so fun to make people with their funny characters. I also love watching the progression in my work the more I practise.
What are your top tips for running a successful cake business?
Other than learning, I would say that the key to running a successful cake business is being organised. My theory is, if you are organised, the jobs are already halfway done. I would also say that you have to love and be passionate about what you do and always aspire to be more.